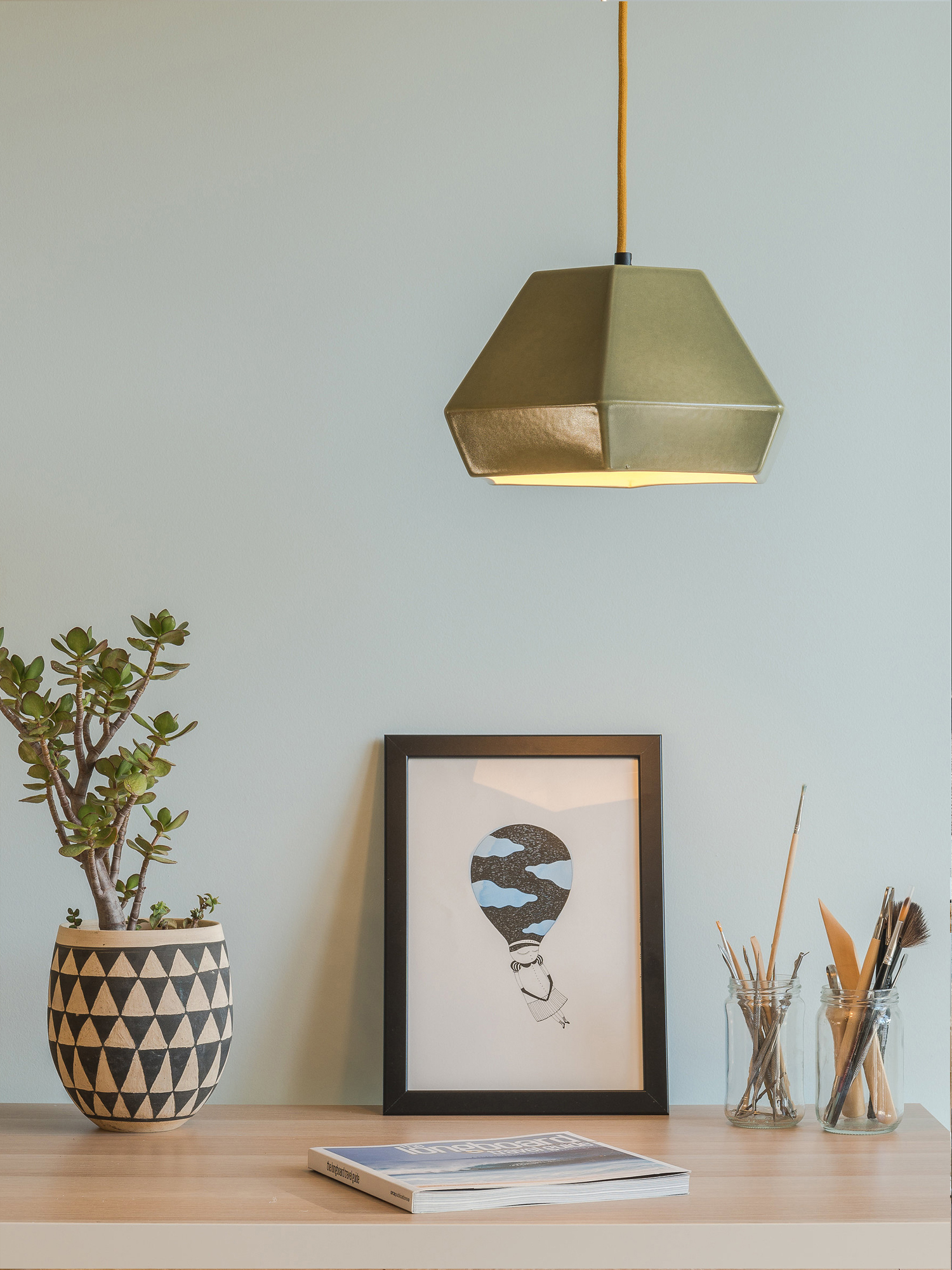 WEBA
Candeeiro de Cerâmica desenhado e feito à mão por PATRÍCIA LOBO.
De linhas rectas e um design inovador, este candeiro destaca-se pela sua versatilidade. De teto, de parede (utilizando uma poleia de madeira) ou de mesa, este candeeiro pode ter diversas finalidades, adaptando-se facilmente a vários tipos de espaços. O seu design geométrico enriquece a forma como vemos a sua cor, permitindo uma reflexão da luz exterior que nos dá uma percepção de um jogo de sombras e claro escuro.
Todos os candeeiros são totalmente customizáveis de forma a se adaptarem a qualquer espaço. Por favor diga-nos qual a cor do vidrado, cor do cabo elétrico em têxtil e acabamento do cordgrip que mais deseja.
Pintado à mão, cada cor oferece nuances que tornam cada peça única. Todos os nossos produtos sao produzidos com grande atenção ao detalhe e vidrados com cores desenvolvidas e testadas ao longo do tempo.
Dimensões: 300d x 160a
Lâmpada não incluída
___________________________________________
Ceramic Pendant Lamp designed and handmade by PATRÍCIA LOBO.
Straight lines and innovative design, this lamp stands out for its versatility. From ceiling, wall (using a wooden bracket) or table, this lamp have several purposes, adapting easily to every space. Its geometric design enriches the way we see its color, allowing a reflection of the ambient light that gives us a sense of a mix of shadows and light dark.
All the pendant lamps are fully customizable in order to adapt to every space. Please let us know which glaze colour, textile electric cable colour and cordgrip finishing you desire.
Hand-painted, each color offers nuances that make each piece unique. All of our products are crafted with great atention to details and glazed with a colour developed and tested over time.
Dimensions: 300d x 160h
Bulb not included
Photographs are the most accurate as possible, however colours may vary slightly from one screen to another.